Event Space
The Grand Ballroom is the largest and most popular reception location we offer. Boasting 9,680 square feet and ceilings reaching beyond 14 feet and dressed with six Austrian crystal chandeliers, we are certain you will agree! Enter through a magnificent 3,000 square foot foyer, perfect for your cocktail reception, and turn this canvas into your own fairytale.
The Grand Ballroom is perfect for any upscale wedding celebration and accommodates up to 450 guests.
Imagine yourself here – standing next to the love of your life, about to say " I do" overlooking the tranquility pool and beyond to the Atlantic Ocean. Allow the sea breeze and the crashing of the waves to be the soundtrack for this once in a lifetime moment.
The Courtyard is the premiere destination wedding ceremony location at Eau Palm Beach. We can assure you that the pool area will close long before your ceremony begins and then, it's all about YOU – as it should be!
This beachfront wedding ceremony venue accommodates 50 to 350 guests and is approximately 3,000 square feet.
To speak with one of our wedding specialists and schedule a tour of the property, please email celebrations@eaupalmbeach.com or call 561-540-4940.
Our second largest ballroom boasts over 2,600 square feet and 14 foot ceilings. With four Austrian crystal chandeliers, the Plaza Ballroom is ideal for an unforgettable ceremony or a dazzling reception.
The Plaza Ballroom accommodates up to 140 guests.
After enjoying a cocktail reception on our oceanfront terrace with breathtaking views of the Atlantic, the Ocean Ballroom is one of Eau Palm Beach's specialty oceanfront ballrooms. Offering over 2,400 square feet, 11 foot ceilings and windows that showcase the beauty that is Eau, the Ocean Ballroom is something your guests will never forget!
This magical room accommodates up to 120 guests.
Imagine your wedding party overlooking the best view in all of Palm Beach County. The sound of the waves crashing beneath you. Beachfront, but without the sand, it doesn't get any better than this.
Whether a rehearsal dinner, ceremony, or farewell brunch, the Ocean Front Lawn provides an intimate and serene experience in a unique space for you and your loved ones to celebrate.
Surrounded by the sights and scents of verdant flora and fauna, the Eau Spa garden is an idyllic setting for a host of bridal events. Enjoy an intimate reception or bridal brunch among your closest friends and loved ones. Glide beneath custom-colored glowing tents that soar above your glistening aisle.
Say your vows in front of a wall of twinkling lights and waterfalls, your big day is sure to shimmer like the stars above our garden.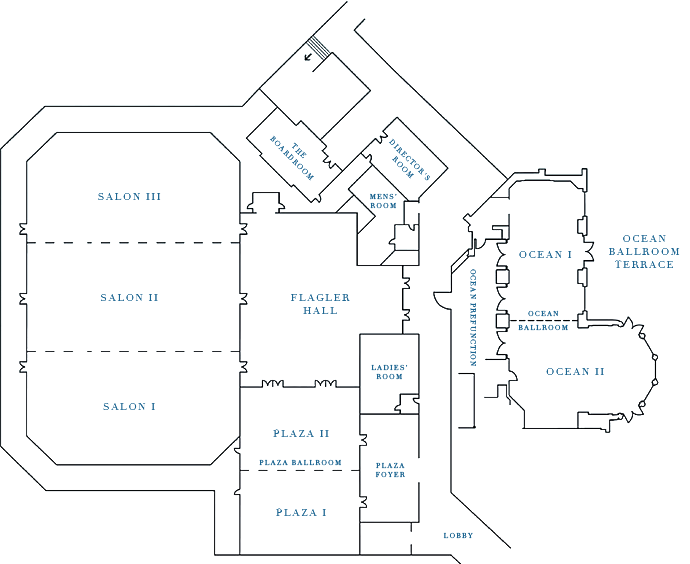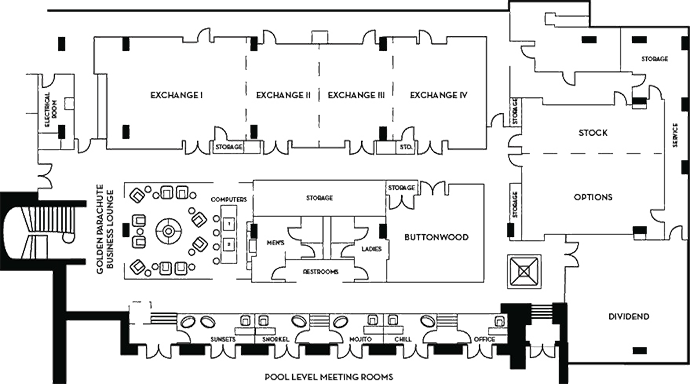 | Meeting Space | Sq ft | Dimensions | Ceiling Height | Banquet | Theater | Reception | Conference | Classroom | U-Shaped | Hollow |
| --- | --- | --- | --- | --- | --- | --- | --- | --- | --- | --- |
| The Grand Ballroom | 9,680 | 121x80x15 | 14.1 | 600 | 1000 | 800 | 108 | 625 | 100 | 120 |
| Salon I | 3,200 | 40x80x15 | 14.1 | 200 | 300 | 250 | 70 | 170 | 62 | 72 |
| Salon II | 3,200 | 40x80x15 | 14.1 | 200 | 300 | 250 | 70 | 170 | 62 | 72 |
| Salon III | 3,200 | 40x80x15 | 14.1 | 200 | 300 | 250 | 70 | 170 | 62 | 72 |
| Flagler Hall | 3,012 | 42x64 | 14.1 | 160 | - | 300 | - | - | - | - |
| Plaza Ballroom | 2,666 | 62x43x15 | 14.1 | 180 | 200 | 200 | 60 | 120 | 60 | 72 |
| Plaza I | 1,333 | 31x43x15 | 14.1 | 70 | 100 | 100 | 36 | 72 | 38 | 48 |
| Plaza II | 1,333 | 31x43x15 | 14.1 | 70 | 100 | 100 | 36 | 72 | 38 | 48 |
| Plaza Foyer | 760 | 38x20x7 | 14.1 | 30 | - | 40 | - | - | - | - |
| Ocean Ballroom | 2,441 | 87x36 | 14.1 | 180 | 100 | 150 | 50 | 50 | 40 | 52 |
| Ocean I | 979 | 44x22 | 11 | 80 | 60 | 80 | 36 | 40 | 36 | 40 |
| Ocean II | 1,462 | 43x34 | 11 | 100 | 70 | 100 | 36 | 40 | 36 | 40 |
| Ocean Ballroom Foyer | 597 | 16x36x7 | 11 | 30 | - | 40 | - | - | - | - |
| The Boardroom | 560 | 35x16x11 | 10 | - | - | n/a | 15 | - | 16 | - |
| Director's Room | 475 | 25x19x11 | 10 | 20 | 32 | 16 | 20 | 12 | 16 | 12 |
| Pool Level | 3,775 | - | - | - | - | - | - | - | - | - |
| Exchange I | 540 | 26x19 | 8 | 30 | 30 | 30 | 15 | 16 | 18 | 24 |
| Exchange II | 387 | 18x19 | 8 | 20 | 20 | 20 | 14 | 18 | 18 | 18 |
| Exchange III | 387 | 18x19 | 8 | 20 | 20 | 20 | 14 | 18 | 18 | 18 |
| Exchange IV | 445 | 20x19 | 8 | 30 | 30 | 30 | 16 | 24 | 24 | 24 |
| Stock | 435 | 25x14 | 8 | 24 | 20 | 24 | 14 | 18 | - | - |
| Options | 602 | 25x20 | 8 | 30 | 32 | 30 | 18 | 24 | 16 | 30 |
| Dividend | 489 | 20x23 | 8 | 30 | 32 | 30 | 16 | 21 | 18 | 18 |
| Buttonwood | 490 | 22x20 | 8 | - | - | n/a | 12 | - | - | - |
| Resort Lawn | 5,000 | 100x50 | - | 350 | - | 400 | - | - | - | - |
| The Courtyard | 3,000 | 50x60 | - | 200 | 300 | 200 | - | - | - | - |
360 Tours