Track Eau-phelia
Eau-phelia is a sub-adult loggerhead turtle that was brought to us by Inwater Research Group who monitors the intake canal of FPL's St. Lucie Site. The turtle arrived at LMC's Sea Turtle Hospital on March 2, 2019 underweight and in overall poor health due to chronic debilitation.
Eau-phelia is named for Eau Palm Beach Resort & Spa. With a name like Eau (pronounced "O" – French for water) and the Atlantic on their door step, Eau Palm Beach Resort & Spa is committed to ocean conservation and has dedicated their support to further LMC's mission. Thank you Eau Palm Beach for your generous support and providing us the opportunity to track Eau-phelia's movements post-release by providing funding for the Wildlife Computer's satellite transmitter that was affixed to Eau-phelia's carapace (shell) prior to release.
EAU-Phelia'S TRACKING STATISTICS
Release Date: July 2nd, 2019
Transmitter Type: Wildlife Computers Splash 10F
Data Collected: GPS location, Water Temperature, and Behavior Information
Expected Lifespan of Tag: 6 months to a year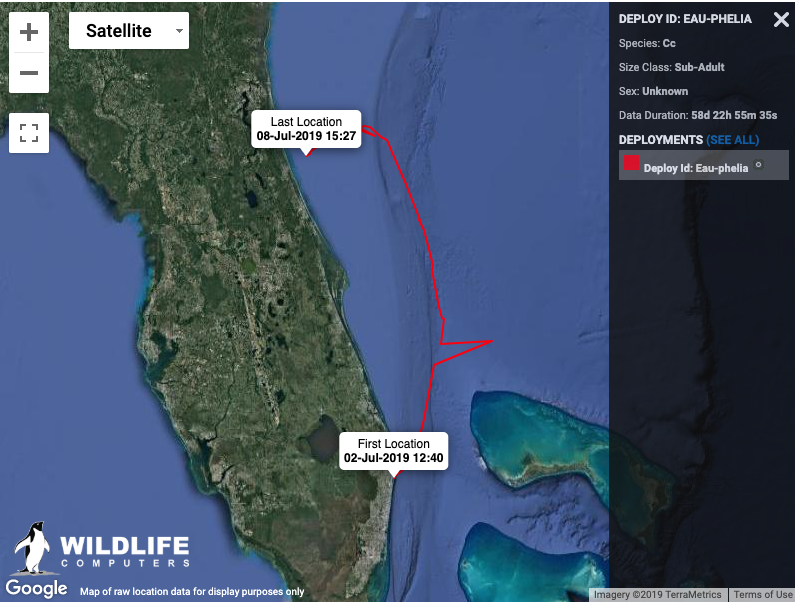 UPDATE 7/2/2019
Eau-phelia, a sub-adult loggerhead turtle, was returned to its ocean home in a private release at Eau Palm Beach Resort & Spa today.